In the words of 5SOS 'WE'RE COMING EUROPE!! Weeee. #5COUNTRIES5DAYS'… So there you have it, 5SOS has just announced their next tour, rightly dubbed the '5 Countries 5 Days European Tour' (with use of their hashtag)!! The boys are heading off on the #5Countries5Days tour to hit up Sweden, Berlin, Paris, Milan and Madrid. Dates are below!
March 31 // Stockholm, Sweden
www.facebook.com/events/298208203665618
April 1 // Berlin, Germany
www.facebook.com/events/439857462813601
April 2 // Paris, France
www.facebook.com/events/474075546052693
April 3 // Milan, Italy
www.facebook.com/events/1470682473146731
April 4 // Madrid, Spain
www.facebook.com/events/729304697102804
LOOK, here they are telling you all about it for themselves in some novelty hats. This literally couldn't get any better.
This month is Sugarscape's '5SOS Month'… are you ready? Were gonna post everything that they post as well! WOO HOO. I mean, you know every month, week, day, minute, second here at 5SOSOnline is all 5SOS all the time but… ya know. Sugarscape got some pretty funny videos. Here's what they had to say about their 1 month of 5SOS.
Buckle up yer boyband loving seatbelt and prepare yourselves for one hell of a ride – because we've got an entire MONTH of 5 Seconds of Summer videos coming your way.
STOP SCREAMING WE CAN'T HEAR OURSELVES THINK.
5SOS stopped by Sugarscape HQ last month, and as well as resisting the temptation to lick them on the biceps, we also played a whole load of hilarious (if we say so ourselves) games with the boys.
Now it's time to share *exactly* what happened with you – and we'll be doing just that every Friday this month, by releasing an awesome video featuring Ashton, Calum, Luke and Michael.
Check out the trailer below for a sneak peek at what's to come and remember – EVERY. FRIDAY. THIS. MONTH (with some extra little surprises the week of their single release – ooh).
Source: Sugarscape
Don't forget to check out our 5SOS Fanfic site! We'd love to have anyone and everyone come join the 5SOS Fanfic community and post their stories or one-shots! Literally, anyone and anything is welcome!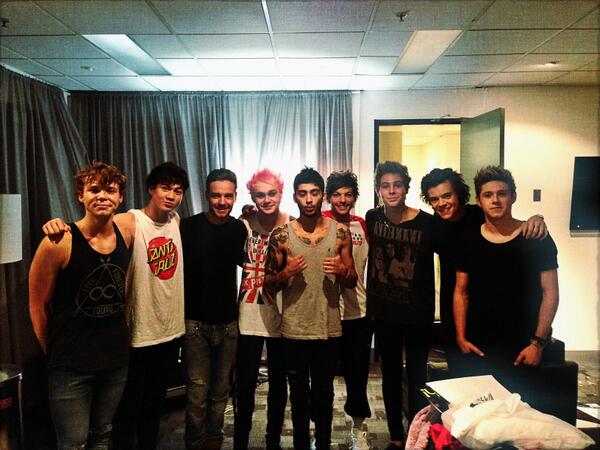 HUGE News 5SOS Fans in North America!! 5SOS is supporting One Direction again on tour! This time our favorite Aussies will be playing in stadiums while supporting One Direction's SOLD OUT 'Where We Are' Tour. As of right now they're only confirmed to be playing the North American dates. You never know what will happen in the future though!
There aren't many tickets left, but if you haven't purchased tickets yet you can do so HERE!
Check out the boys announcement and dates below!
We are soooo excited to be supporting the 1D lads on their "Where We Are Tour" in the USA & Canada this year The tour last year was a wicked experience and helped us take our band to places we never even dreamed possible. Cannot wait to play our new music and rock out in stadiums across North America! It's going to be EPIC. We will see you soon… Big love, 5SOS x
08/01 Toronto, ON
08/02 Toronto, ON
08/04 East Rutherford, NJ
08/05 East Rutherford, NJ
08/07 Foxboro, MA
08/08 Foxboro, MA
08/09 Foxboro, MA
08/11 Washington, DC
08/13 Philadelphia, PA
08/14 Philadelphia, PA
08/16 Detroit, MI
08/17 Detroit, MI
08/19 Nashville, TN
08/22 Houston, TX
08/24 Dallas, TX
08/27 St. Louis, MO
08/29 Chicago, IL
08/30 Chicago, IL
09/11 Pasadena, CA
09/12 Pasadena, CA
09/13 Pasadena, CA
09/16 Phoenix, AZ
09/19 El Paso, TX
09/21 San Antonio, TX
09/23 Tulsa, OK
09/25 New Orleans, LA
09/27 Charlotte, NC
09/28 Charlotte, NC
10/01 Atlanta, GA
10/03 Tampa, FL
10/05 Miami, FL
Throwback to the first gig 5SOS ever did… for about 12 people.