Check out a photo of the merch that was available for sale at the Phoenix, AZ show of the ROWYSO Tour! Merch will probably stay the same for the two LA shows this weekend at The Forum but will change and be updated next year for the full blown tour.
5SOS has made a special 'Cassette' Merch Box available for pre-order on their webstore! Get it HERE before it's too late! This brand new merch box is full of exclusive new stuff all only available here.
Each box contains:
(1) Derping Stamp T-Shirt on a red short sleeved baseball top.
(2) 5SOS tour lanyard with laminate
(3) 5SOS yellow stripe sweatband
Check it out below and click the photo to go to the webstore!
It is specified on their merch website that this item is available for pre-order and will ship on or around December 8th, 2014. If you wish to order other items in the store but have them ship sooner, please place a separate order!
5SOS has added some new merch to their online merch store! Check it out and purchase some spiffy new stuff HERE!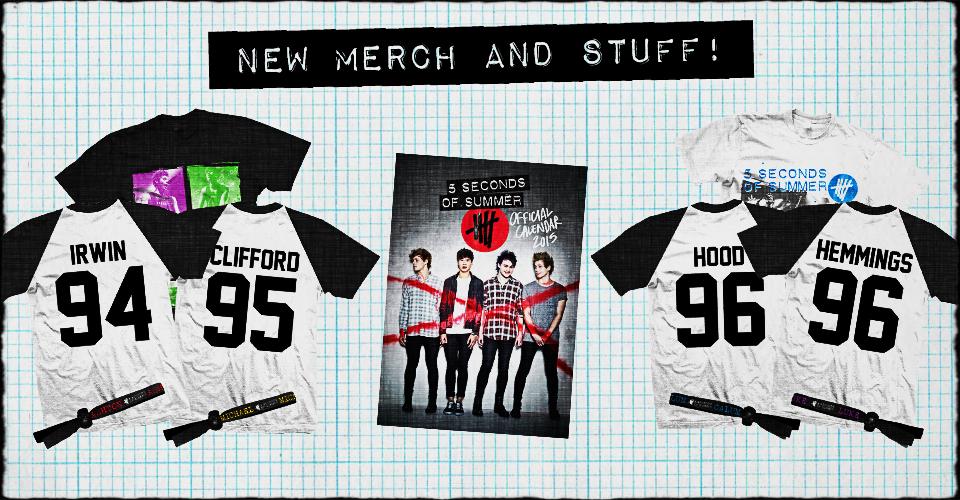 5SOS has added some new merch to their online merch store!! Check it out below! Head on over HERE to pick up some new 5SOS swag before it's all gone!
An Official 5SOS 2015 Calendar will be available for sale on Sept. 10th, 2014 via UK Amazon. Check out the front below and pre-order it HERE!
5SOS has announced that they have each designed a special edition merch item for their merch store and will be releasing one item each week for the next few weeks. Each item will only be available for 7 days! The first item is a bandana that is designed by Ashton! Check it out below and order it HERE! Do it now before it's too late and you miss out on this forever!
Australia and NZ! A brand new 'Hungry for 5SOS' shirt is now available in your merch store!! Get it HERE!
Check out some of the merch that the boys have for sale on their North American Tour!