5SOS has added some new merch to their online merch store! Check it out and purchase some spiffy new stuff HERE!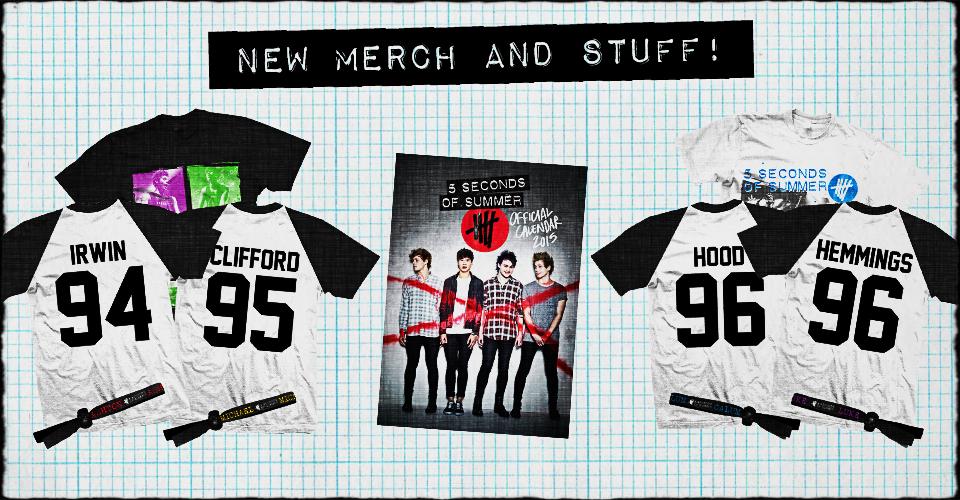 5SOS has added some new merch to their online merch store!! Check it out below! Head on over HERE to pick up some new 5SOS swag before it's all gone!
An Official 5SOS 2015 Calendar will be available for sale on Sept. 10th, 2014 via UK Amazon. Check out the front below and pre-order it HERE!
5SOS has announced that they have each designed a special edition merch item for their merch store and will be releasing one item each week for the next few weeks. Each item will only be available for 7 days! The first item is a bandana that is designed by Ashton! Check it out below and order it HERE! Do it now before it's too late and you miss out on this forever!
Australia and NZ! A brand new 'Hungry for 5SOS' shirt is now available in your merch store!! Get it HERE!
Check out some of the merch that the boys have for sale on their North American Tour!
5SOS has launched a new merch store! We've gotten a few comments regarding previous merch stores not working, and now we know why! There are some GREAT items that the boys have put up for sale including music, tshirts, a hoodie, and MORE!
Check out the new items available below and BUY YOUR 5SOS MERCH HERE! Really, don't wait.
Two DOPE new shirts have been added to 5SOS's merch store!! They have new red and rainbow foil derpin tees on the merch store now! Get them while they're still available! The rainbow one is sooo cool! Get them HERE!