5sos showed up to the twitcam today in costumes…all except for Luke, sporting a baseball hat and his usual style. This morning they've sold out the entire North American presale and are ready to make more exciting announcements about the future of 5sos in this twitcam. Here's what they said:
-She Looks So Perfect music video releasing on Monday, February 24!
-North America can pre-order the EP on Tues. February 25!
-UK tour starts in three days
-She Looks So Perfect EP is currently #1 in Australia
-Expect a European 5sos tour VERY soon!
-Australian tour also to follow
-5sos played snippets of the songs on the EP
5SOS will be doing a Twitcam on Thurs 9pm UK time (8am AEST/4pm EST), seeya there
#5SOSTWITCAM
RSVP to the event on Facebook HERE!
5SOS is doing a twitcam this weekend! Saturday 7 december 10:15am pst / 1:15pm est / 6:15pm gmt / Sunday 8 december 5:15am aedtDon't miss it! Event info HERE!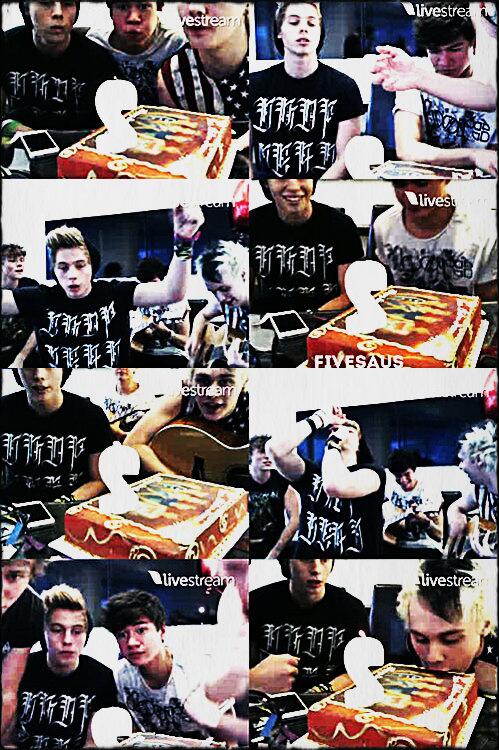 And here are the times for various places around the world!

width="450″>
TWITCAM TOMORROW, OCTOBER 6, 2013
Times:
UTC + 11
1:30 AM EST
10:30PM  PST
6:30 AM LONDON
3:30 PM AEST
Check your time zone if yours is not listed above!
Here's the details from the twitcam if you missed it! Check out what these crazy Aussies were up to this time:
-5SOS starts by sitting on the couch, then move to the bathtub.
-Whilst in bathtub, doorbell rings
-Screaming. Lots and lots of screaming.
-#IntheTubWith5sos
-They torture Ashton until he gets in the tub
-The other three escape into the bedroom (risque)
-Things get real weird right now
-Random girl calls Ashton and asks to follow her
-Michael believes his and Calum's ship name is just 'Michael'
-The twitcam turns into a 1975 singalong
-They keep hurting each other omg why stop
-The Cliffoconda makes an appearance
-5sos make note to North American fans to keep tweeting despite the difference in time zones
-Calum's butt makes an appearance
The Twitcam has been moved to Sunday, September 8th at 8PM PST. For those of you east coasters that's 11 PM EST. Check your local time zone so you know what time to be on! RSVP for the event here
The twitcam for tonight, September 3, will be rescheduled. Stay tuned for updates!
The boys are doing a twitcam Tuesday, September 3. They'll be broadcasting live one final time from Los Angeles. For those of us in the US, the times will be 11 PM EST and 8 PM PST. Check for your local time internationally! RSVP to the facebook event here.
Don't miss the last twitcam from LA!