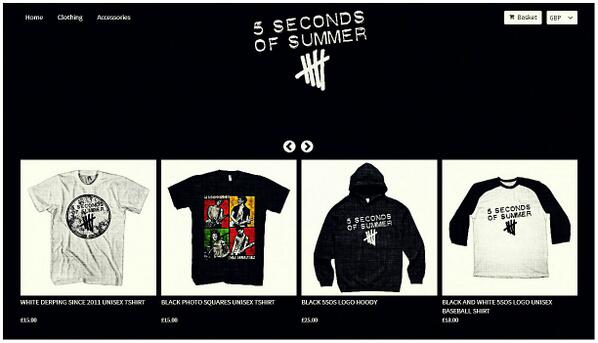 5sos just opened a brand new merch store! Check it out here: http://5sos.sandbaghq.com/
Welcome Message!
Welcome to 5SOS Online, your newest and best US source for everything 5 Seconds of Summer! We provide you with the latest news, pictures, videos, and more! Take a look around and get to know the guys. If you have any tips or questions, feel free to contact us at any time. Everything you want to know about 5 Seconds of Summer is right here, why would you go anywhere else? We hope you enjoy the site and thank you for checking it out!
Meet 5SOS!
5 Seconds of Summer is a band from Sydney, Australia consisting of school friends Luke Hemmings, Calum Hood, Michael Clifford, & Ashton Irwin. Formed in 2011, 5SOS has come a long way in two years. Immensely talented, they all play their own instruments, they're currently on One Direction's 'Take Me Home' tour. They've released two EP's and continue to stay busy with new music, videos, tours, and more. Keep an eye on these guys, they're sure to not be forgotten!
Disclaimer
We're not 5 Seconds of Summer (5SOS), Ashton, Calum, Luke, Michael, or their management. This is a fansite, meaning that it is a site built and maintained by persons other than the band and/or management and in support of said band. This site is built for the fans, with the intention of giving you one place to come for all your 5 Seconds of Summer news. We have the rights to designs and fan center content. By no means may you alter, transform, or build upon any of the site designs and media gallery work. We do not claim ownership to pictures or videos posted. Everything used in this site such as pictures, media, and articles are copyrighted to their respective owners. If anything is yours and you were not given credit or want them taken down, we will do so peacefully. Please do not take anything from this site without either crediting properly or asking first. Please contact us before taking legal action. Thank you and enjoy the site.
Disclaimer & Terms | Contact Us

This work is licensed under a Creative Commons Attribution-NonCommercial-NoDerivs 3.0 Unported License.